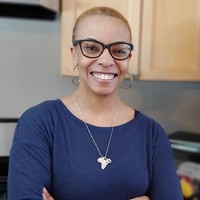 What is getting in the way of our total health and fitness as Black women? Is it our hair? Our beliefs? Is it plain ole laziness? Why don't we prioritize our health and give ourself the gift of health and vitality? 
Krystal Taylor will be joining us to unpack this subject. 
As the owner of Fitness Is NOT A Game, Krystal has helped hundreds of people who are on their journey to a healthier lifestyle. As a Certified Personal Trainer and Fitness Nutrition Specialist, Krystal believes in adopting a healthier lifestyle, not following fad diets. She also believes that change happens with your mindset first so that's her focus.Krystal offers virtual training programs (meal and exercise), unique fitness products (playing cards), and consultations. 
Check her out at www.fitnessisnotagame.com